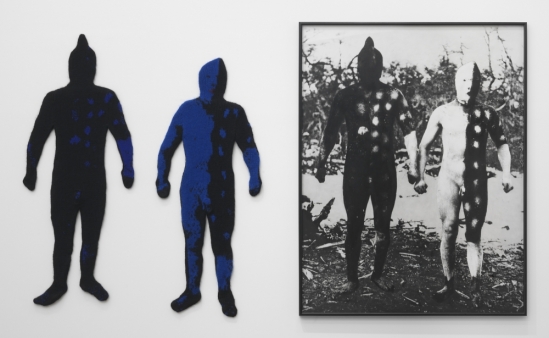 Elaine Reichek, Blue Men, 1986 | Courtesy photo
Professor Jenni Sorkin gave the 2019 Peter Dormer Lecture in the U.K. in November, tracing a history of craft practices and object making that centered on the body as both a source of stimulus and site of contestation for addressing urgent questions of gender and sexuality during the decade when identity politics elided with a new materiality in artistic production. The Peter Dormer Lecture
is the UK's major annual applied arts lecture, held in memory of Peter Dormer, the writer and critic who died in 1996. Organised by a committee of his friends and colleagues and hosted by the Royal College of Art, the lecture aims to continue the debate about applied art and society that was central to Dormer's concerns.
UCSB's news site, The Current, also wrote the article, "Hierarchies in the Arts,"
about how Professor Sorkin's talk explores deeper themes of the decorative arts, such as race, sexuality and gender, in this prestigious U.K. lecture.
December 16, 2019 - 3:56pm